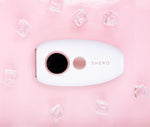 SHERO ICE - Our Best At-Home IPL Hair Removal Handset To Date
Shero Beauty™ is introducing its newest C-IPL Permanent Hair Removal Handset!

Bearing in mind the feedback we are getting from some of our users, we are thrilled to present our latest at-home IPL Hair Removal Handset with a new added feature - The ICE Mode!
While keeping its UV- free light spectrum and the optimal energy settings of 7 - 15J, users are able to operate the SHERO ICE hair removal handset safely at home and see long-lasting hair removal results within 6 to 8 weeks.
What's Special About SHERO ICE Hair Removal Handset?
The new SHERO ICE C-IPL Permanent Hair Removal Handset has a cooling mode that we can activate simultaneously when we are flashing away. It soothes the skin with an ice cool sensation, canceling the heat that the IPL flash leaves on the skin.

For people who have lower pain tolerance or performing IPL hair removal treatment on areas which are more sensitive, i.e: Bikini/ brazillian area or underarms, the ICE mode helps to minimize the discomfort and hence, we can select a stronger setting to target these areas more effectively and speed up the results!
Differences between SHERO ICE and the previous SHERO C-IPL Hair Removal Handset
SHERO ICE has all of the good product specifications of the previous C-IPL Hair Removal Handset model. Both can be used on Bikini/Brazillian area. The new upgrades are:
Advanced Cooling Feature: Maximize comfort & minimize irritation with our new cooling plate feature!
Stronger & Faster Pulses: We can finish our treatment within a shorter time and see results sooner!
Improved Fan & Ventilation system: To dissipate heat more efficiently and prevent heat from building up in the device too soon! This helps us to complete the treatment faster and prevent the device from overheating too soon.
SHERO ICE has kept these specs from the previous model:
999,999 flashes: Lasting up to 8 years depending on our usage.
No Harmful UV: Safe for the eyes and skin, Shero glasses are still recommended to be worn throughout the hair removal treatment.
Calibrated - IPL: Optimal for hair removal within 6 - 8 weeks, safe for at-home usage.
Automated mode: You can Shero with speed with our automated mode to target large surface areas.
LCD screen: To keep track of the remaining flash count and display the settings.
5 Intensity levels: Adjust the level intensity to suit your skin sensitivity.
*1 YEAR WARRANTY applies upon receiving product and registration made.*
The new feature definitely helps better our hair removal experience with home use IPL and it's great for those who don't like the rubber-band-snapping-sensation that we normally get from conventional home use IPL hair removal handsets (especially when using the highest or second to highest energy setting). If you have any questions, feel free to reach out to us on Instagram DM or email us at help@shero.co!
Read more on: