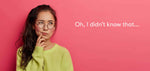 Do's & Don'ts of using a Home Use IPL Hair Removal Device
There has been a surge of popularity in the usage of home-use IPL hair removal devices in recent years, especially when people were marching into restricted movements and lockdowns due to Covid-19 where beauty salons are not allowed to operate and waxing appointments missed. The long- lasting hairless results from home use IPL hair removal is highly favoured compared to painful waxing and epilating which give temporary results. Therefore, many have opted for a new "normal" in their hair removal regimes.
As IPL hair removal at-home is a fairly new method of removing hair, there are some things that we hope people would take note before purchasing or using the handset. Read below to find out the Do's and Don'ts of using a home use IPL hair removal device.
1. Do not apply any gels or skincare products prior to the hair removal treatment, you'd want to keep your skin clean and dry.
You do not have to apply any gel or skincare products (aloe vera gel,etc.) before your IPL hair removal at home as it may affect the efficacy of the treatment because any product on the skin may block or refract the light from passing through to the hair follicles.
It may also cause accumulation of products and dirt at the corners of the flash window that can be difficult to clean. SHERO handsets do not emit harmful UV rays and the light it emits is relatively milder than the IPL in salons, therefore, keeping your skin clean and dry will do.
Note: Any dirt or hair left behind on your skin will produce a strong burnt smell when IPL is in use.
2. Avoid going out into the sun or use acidic skincare/harsh chemicals before IPL or any laser treatment.
To prevent any possible sensitivity, avoid going out into the sun after IPL hair removal treatment, use sunscreen (we recommend: below SPF 50 Broadspectrum) or cover your skin for protection.
The usage of isotretinoin, skin whitening products, citrus essential oil or product with vitamin A, chemical exfoliant such as, AHA or BHA, azalea acid and retinol are to be avoided when using IPL. Please avoid these chemicals for at least 48 hours before commencing IPL and 48 hours after your IPL treatment, or to avoid using on areas where IPL will be used on.
3. Do not use a high energy setting (Level 4 & Level 5) on your first try without assessing your skin's tolerance beforehand.
Check your skin tone and hair color suitability before purchasing and if it's your first time, start with the energy setting of level 1 and gradually up the setting.
4. Do not use IPL on skins with dense melanin or on large moles, birthmarks, tattoos or artificial tan.
IPL works by having the melanin (the thing that gives our hair and skin a dark colour) absorb the light energy in order to do its work. Skin with dense melanin/ dark skin tone will confuse the IPL. When the melanin on the skin absorbs the light energy, your skin will feel pain more than the average user and the treatment will most likely be less effective because the skin is absorbing away the light meant for the hair follicles. The ideal condition for IPL hair removal would be: the hair is packed with melanin while your skin is not.
Using IPL or any laser on your tattoo will not only cause pain and sting, it will damage the quality of the tattoo, you can go around the tattoo or mole during treatment. Besides that, artificial tan should not be on your skin whilst using your handset. We recommend you wait at least 48 hours to tan after using your handset. Please refer to the skin tone chart to check the suitability of using IPL after your tan.
5. Do not use over areas of plastic surgery.
If you've undergone breast implant surgery and worry about potential effects of IPL on your implants, don't be. The intensity of IPL is not strong enough to penetrate to the depth required to affect your implants. However, we always recommend that you consult your doctor first depending on the type of plastic surgery done.
6. Do not opt for IPL hair removal treatments if you have the following conditions:
Suppression of immune response diseases (including HIV infection,lupus erythematosus, porphyria, etc.)
Epilepsy
Vascular diseases such as varicose veins, vasodilation in the irradiation area
Herpes Simplex, skin lesions, hematoma, skin cancer
Diabetes
Bleeding disorder
7. Avoid these products prior to treatment and immediately after treatment.
Usage of Isotretinoin, skin whitening products, citrus essential oil, products with vitamin A or retinol, chemical exfoliants like fruit acid (AHA), salicylic acid (BHA) or azalea acid are to be avoided before and after your IPL hair removal treatment. Please avoid for at least 48 hours before commencing IPL, or avoid using on areas where IPL will be used.
8. For those who use chemical hair removal (such as Veet), please wait for 3-5 days before you start your IPL treatment.
We advise you to stop using harsh chemicals on your skin especially when you are on IPL treatments. Shave with gentle lubricants or mild lotion instead.
9. Do not use on the following body parts or the following conditions:
Eye area: eyebrow, under eye
Nipple, Areola
Labia Minora
Ear or head hair
(Note: This list is not exhaustive, if you are not sure whether you can use this product, please reach out to us via Instagram Direct message here. We also recommend that you consult a professional or a doctor regarding a medical condition.)
10. Always wear your protective glasses when you're using the IPL handset.
Our SHERO handset uses C-IPL which is free of the harmful UV rays. That being said, you shouldn't stare at it and commence IPL without eye protection from the bright flashes.
Read more on why C-IPL hair removal may be good for you.
11. Keep your body hair under 3mm for optimal treatment.
You may feel the sting when hair is too long and is lying flat on your skin when you undergo IPL on the area. You only have to shave whenever the hair grows too long.
12. Only shave. Never pluck, wax or epilate.
Some hair is needed to be in place and intact with the hair follicles in order for IPL to work. Waxing, plucking or epilating will remove the whole root of the hair. Without the hair in place, there is no medium for the light to travel to the hair follicles. Note: hair contains melanin and melanin absorbs the light energy from the IPL.
13. Avoid using IPL if you are pregnant or lactating.
There is no evidence of negative effects of IPL on pregnant women. However, there is also no study being carried out to guarantee that it is safe for pregnant women and their babies. Hence, it is recommended to wait for lactation to be over before use.
14. Do not press the IPL handset flash window hard against your skin so that the hot glass window does not directly touch your skin and only the sides do.
It does not require direct contact between the glass and your skin for IPL to work. The melanin in the hair will absorb the light pulses. Avoid touching your skin to the glass during treatment to prevent discomfort.
15. Allow your IPL handset to rest in between each round to minimize chances of overheating.
The at-home IPL handset emits light that turns into heat, prolonged usage will cause the glass and the device to over heat. You can choose to let the fan run for a few minutes or switch it off to let it cool down before continuing.
Source:
https://www.webmd.com/beauty/intense-pulsed-light-treatment-overview#1