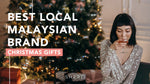 18 Best Local Malaysian Brand Christmas Gifts in 2021
As this time of the year comes around, many struggle to find the perfect gift for their loved ones. Whether it is for friends, family or a colleague, we have come up with a list of gifts from local brands that are unique on their own. Here are 18 gifts that are from Malaysia that will make a joyous gift this Christmas 2021.
1. Brown and Syai
Beautifully crafted artisan sweets that are gorgeous and festive looking will bring any person feeling joy for the holiday season. Perfect for that sweet toothed friend.
Website: https://www.brownandsugar.com.my/
2. SHERO
Ever heard of someone complaining about waxing appointments or been eyeing an IPL package? Get them a long lasting hair removal solution today with Shero ICE IPL permanent hair removal handset! Now they can achieve hair removal at the comforts of their home. Designed with a cooling feature for comfortable usage even on sensitive body parts. This Christmas, Shero will even provide gift wrapping services that will save you the trouble of gift wrapping.
Website: https://shero.co/
3. Self Supply
Self Supply is founded by 2 sisters residing in Klang Valley. They handmade the cutest candles and tile tables around. If you are looking to introduce a touch of personality to your room, you can customize a tile table with them too. Check them out on their Instagram!
Website: https://shopee.com.my/selfsupply
4. Wunderbath
Wunderbath presents a very Wunderful Christmas Fairytale with their wonderful scented bathbombs. Mark your calendar and get our limited edition Christmas drop, while stock last! This is the perfect gift for someone you care for who is stressed lately and needs to rewind. Just make sure they have a bathtub to have a wunderful time!
Website: https://www.wunderbath.co/
5. Jointhepotteryclub 
Have a friend who loves art and craft? A ceramic building kit is perfect to make a cute little ceramic for their own keep.
Website: https://www.jointhepotteryclub.com/collections/ceramic-building-kit/products/ceramic-building-kit 
6. Bingka
Know of someone who loves to collect unique lifestyle products? Bingka makes towels, pouches, bags and home decor in an art style that celebrates Malaysian culture.
Website: https://bingka.my/
7. The Candle Hour
Featuring four different candle scents, wintry designs, these charming gift boxes are a fantastic way to show up your holiday presents with festive flair. Pair with shimmery ribbons and bows and add complimentary card for gifts sure to stand out as you celebrate this Christmas season with your loved ones. Each 2 oz tin burns for approximately 7 - 10 hours.
Website: https://www.thecandlehour.com/
8. Ghostbird Coffee Co.
Know a coffee lover? Checkout Ghostbird's limited release Christmas coffee blend 2021 for this special holiday season. Their Christmas Blend this year (2021), focuses on delivering the quintessential flavours and memories of what Christmas means to company and to all of you.
With flavours of Mixed Berries, Candy and Sweet Sweet Chocolate, the medium roasted coffee blend of El Salvador and Costa Rica is sure to satisfy your cravings for a seasonal blend for both an espresso-based coffee as well as in a filter coffee!
Website: https://ghostbirdcoffee.co/collections/limited-release
9. MakehaySunshine
A Merry Toast features a bottle of Moët & Chandon Brut Imperial! The holiday themed fresh floral arrangement features brilliant red roses along with pine cones and a Santa Snow Globe that's great for the coffee table. This gift screams festive and would impress anyone that receives it.
Website: https://makehaysunshine.com
10. The Everyday Men
This is probably a one-stop solution for those that struggle with finding gifts for males. The Every Men offers different types of products ranging from leather goods, self-care products, coffee cups & flasks, bracelets and cakes. Personalized items and gift box are also available.
Website: https://theeveryday.men/
11. Wishful.My
Are you tired of receiving gifts that will be given away to the next person, or gifts that leave us wondering what to do with them and where to store them in our homes?
We believe that there is a place for purposeful, practical and beautiful gifts in this world, and we are passionate in making that happen for everyone.
Full moon gift boxes. Corporate gifting. Weddings. Birthdays. Celebrations. Or for no reason at all. We wish to make gifting an experience that excites both the giver and receiver, in a personal, thoughtful and creative way.
Website: https://www.wishful.my/
12. The Chic Habitat
Why do we love The Chic Habitat? They curate gifts to bring family together. This Christmas, you and your loved ones can build a wreath together and hang it to commemorate a beautiful memory. Checkout their website as there are many other gift options available.
Website: https://www.thechichabitat.com/
13. Topi Tin
Christmas Stockings bucket hat! Plain red with stocking buttons around the hat. The reverse side is an off-white colour with snowflakes! Christmas sprinkles on the inside, box wrapped in red & tied with a gold ribbon! Also comes with a small gingerbread man tag, you can write notes on it if you're giving it as a gift to someone else!
Website: https://topitin.com/
14. Happy Bunch
Celebrate the season of joy with Happy Bunch's Joy Box, which is specially curated for a quiet night in and #ThoughtfulConnections with a great cup of hot chocolate and a Christmas movie list to binge. The mugs are pretty and absolutely ideal for any occasion and serve as a positive reminder whenever one uses them.
Website: https://www.happybunch.com.my/
15. ANTING by Camilla
Head to ANTING if you are looking for meaningful jewellery designed and made by a local entrepreneur and her team from Sabah. They even have a gift guide on their website!
Website: https://www.antingbycamilla.com/
16. FIT.CO
What better way to encourage and motivate someone (or yourself) to get fit with a Fit Box? Fit.co lets you curate your own fit box. They also have many chic workout apparels to choose from. Best part? It's also owned by a passionate local entrepreneur.
Website: https://fitdotco.com/
17. Bea & Bow
The founders of this company were inspired to design functional and fun items for the little ones. They are not only perfect as gifts, we as shoppers have fun picking them too!
Website: https://www.beaandbow.com/
18. Corvan Cordless Vacuum
Corvan is a Malaysian brand, established in 2014, focusing on everyday home appliances. If you are about efficiency & convenience, cordless vacuums are a must-have in your household! Go to Corvan to get your hands on the best selling cordless anti-tangle vacuum cleaner. It comes with a 5 years warranty!
Website: https://www.corvan.com.my/collections/cleaning-appliances/products/corvan-cordless-anti-tangle-vacuum-cleaner