Hello. We're Shero Beauty!
We want to change current beauty standards.

Your Shero journey is not just about hair removal,
it is a community to feel safe while learning what makes each and every one of us unique.
- she . her hero . her own hero -
SHE. HER HERO. HER OWN HERO
Our Values
We are committed to constant improvement to offer the best products and services to our users. Shero aim to provide beauty and lifestyle solutions through innovation and creativity with people's needs in mind.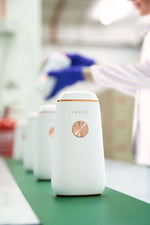 Constantly working on
Innovation
There are so many ways to remove hair, and they are all either painful or costly. Our device is not a new found technology, just that we took an existing invention and made it more convenient for user to remove hair permanently at home.

Shero C-IPL Permanent Hair Removal Handset uses light energy to target the melanin within your follicle, and puts it to sleep. Due to how this technology works, it is not recommended for people with dense melanin skin. Shero is working hard to find a way to bring a better hair removal solution for people of all hair and skin types.
Learn more about your suitability of using Shero

We are bringing a new normal to you! Your views on hair removal will change once you begin the SHERO journey as this is no longer a conventional method of removing hair. And don't worry! We will guide you throughout your journey to ensure it's a smooth one.