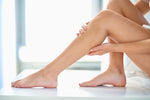 How to Care For Your Skin After Permanent Hair Removal
Sometimes we get tired of waxing or shaving all the time. The best solution? To perform a permanent hair removal treatment! IPL and laser hair removal treatments are one of the best ways to get rid of unwanted hair, pain-free.
However, if you're worried about how to take good care of your skin after the treatment, we've listed some of the best laser hair removal aftercare so you'll have a great experience:
What Does IPL or Laser Hair Removal Do To Your Skin?
IPL (Intense pulsed light) and laser hair removal both emit light energy which absorbs the areas of high pigment such as hairs. The heat will damage the hair follicles, thus slowing overall hair growth and preventing it from growing further in the long run.
However, the main difference between IPL and laser hair removal would be the source of light that is being used. IPL uses a broad-spectrum visible light while laser hair removal uses the properties of an actual laser. In other words, IPL are not considered lasers.
Both of them work about the same way on your skin. The heat from the light will destroy the cells which enable the hair to grow.
Why Do You Need To Care For Your Skin After Permanent Hair Removal?
It's important to prioritise post-hair removal care because your hair bulbs in the hair follicles are being heated by laser or IPL hair removal. This means the natural hair growth of your hair will be affected. Generally, your skin will be tender and sensitive after performing laser hair removal.
As for IPL, it's less abrasive compared to a normal laser hair removal. However, your skin will experience dryness once the IPL treatment is performed. Similar to laser hair removal, your skin will be sensitive to light due to the heat expelled from the device that causes the cells surrounding the hair follicles to be tender.
What Happens If You Don't Take Care Of It?
If preventive care is not performed post permanent hair removal, you may be prone to potential scars, burns, blisters, or skin pigmentation such as discoloration. These side effects tend to fade away after 3 days, though. This is especially true for laser hair removal as compared to IPL hair removal, which is milder in intensity causing less probable risks post treatment.
Best Laser Hair Removal Aftercare Tips
1. Creams
One of the best hair removal cream aftercare would be cortisone cream. Many beauticians tend to recommend using steroid cream as the post-hair removal cream too.
Aloe vera is another great way to soothe any swelling or redness. It's best to keep the aloe vera in the fridge so that you can apply it while cold.
2. Skincare products
You should use any form of non-comedogenic moisturiser that is made for sensitive skin. While it heals, your skin will be more sensitive than usual. Besides that, one of the recommended skincare after laser hair removal practice would be to apply sunscreen every single day.
Ideally, no matter what kind of skincare you use, it has to be fragrance-free or gentle enough so that it won't cause any skin irritation.
3. Avoid extremely hot showers or saunas
Your hair cells are already damaged from the heat. If you have extra heat around that area, then you will experience further irritation. It's best to avoid going through any sort of heat directly on the area you've done the laser on.
4. Avoid working out too hard
It can be tough to avoid exercising if you tend to live an active lifestyle. However, one of the recommended laser hair removal aftercare is to avoid sweating too much at least within 24 hours once you've done the treatment.
5. Avoid high UV light exposure
After going through permanent hair removal treatments, your skin will also be extra sensitive to UV light which could potentially lead to skin damage when exposed for too long. Try to avoid getting direct light exposure on the areas where you've done the treatment by protecting it with your clothing or anything of the sort.
6. Avoid skin care products that contain BHA/AHA
The skin's protective layer will be extra sensitive after the treatment. There are certain skincare products that contain ingredients that could further increase skin sensitivity such as BHA/AHA. These ingredients will affect the healing process by creating a reaction to it as it's made to exfoliate the skin. It could cause irritation.
Now that you know the best skincare practices after laser hair removal, you can proceed to perform your own IPL treatment at home! There's no need to worry as you've already learned the necessary precautions. Shero's ICE IPL Hair Removal Device makes it easy for you to remove any unwanted hair right in the comfort of your own home.