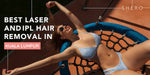 Best Laser and IPL Hair Removal in Kuala Lumpur 2023
Unveiling a smoother, hair-free skin is no longer a luxury but a standard of modern grooming, and in the heart of Kuala Lumpur, 2023 presents the zenith of laser and IPL hair removal technologies. Dive in as we explore the best options the city has to offer this year.
5 Best In-Clinic Laser and IPL Hair Removal Services in Kuala Lumpur
1. Bubble Gum Wax LaserX
Their hair removal services are provided in various well-known locations such as Bangsar, Ampang, and Wangsa Maju. At all Bubble Gum wax outlets, all staff are very professional.
Source: Bubble Gum Wax LaserX prices
(Price subjects to change due to promotional dates.)
Their hair removal procedures still require customers to shave, as their LaserX technology is a semi-permanent hair reduction method where beams of laser light are used to weaken hair follicles. Similar to IPL, the machine delivers light energy to the skin. The recommended course of treatment is 6 sessions with a 4 weeks interval between each session, however, their customer service recommends at least 10 sessions to be done for better results.
2. Strip AFT Hair Removal
Strip's Advanced Fluorescence Technology hair removal is available in all strip outlets in the Klang Valley area. Their therapists wipe and sanitize every tool/item used after each customer, and include changing bed towels. 
Strip uses AFT technology which delivers energy over a broad spectrum of light energy compared to the laser which delivers energy at a focused point of light energy. Due to the differences in energy delivery methods,

AFT is a lot less painful compared to Laser as it delivers high energy over a broad spectrum of light energy. Similar to Bubble Gum LaserX, it is recommended to do a course of 6 sessions with 4 to 6-week intervals in between and may require 4 to 6 sessions for results to be visible.

(Source)
3. Musee Platinum Tokyo
With 3.2 million customers worldwide, Musee Platinum Tokyo is Japan's No.1 hair removal salon. They are the only hair removal salon in the world that performs treatments that match your hair growth cycle!
This is important as IPL or laser hair removal generally only works on a very specific hair growth phase which is the anagen phase. By adhering to that principle, customers only need to purchase the right amount of hair removal packages and making sure every treatment counts.
Book an appointment with Musee Platinum Tokyo, here.
(Source)
4. Premier Clinic
You can find Premier clinics in multiple locations in the Klang valleys. They use a YAG system that utilises a high-energy laser that does not affect or harm your skin. A cooling device will also be used on your skin first before emitting the laser.
More info here.

5. Japan IPL Express
Japan IPL Express has multiple outlets overseas and in Malaysia, offering IPL hair removal packages to both men and women. Similar to the ones mentioned above, Japan IPL Express uses a broad light spectrum to deliver energy pulses to the hair follicles. Their equipment also has a cooling system which makes the procedures safer and more comfortable.
Prices and promotions can be found here.

Both Bubble Gum Wax and Strip are renowned for their waxing services but not many people are aware of their IPL hair removal packages. As mentioned above, not everyone is ready to commit to IPL packages due to safety concerns.
Another major reason that people refrain from committing to a 6 session package is due to the possibility of another lockdown that can hinder result progress. Hence, here are two home-use IPL options that can be the perfect solution for you as the home-use hair removal handsets allow for treatment flexibility, safety, privacy and they are a one-time purchase that lasts for up to 5 - 8 years depending on your usage.

Best At-home Laser and IPL Hair Removal Devices
Price: RM2,699
Items include: Device, User manual, Luxurious pouch for storage, Adapter
Flash count: 250,000 flashes
(Source)
This is Philip's most powerful IPL yet, designed for your body's curves and easiest at-home experience claims to show 92% hair reduction already after 3 treatments. Philip's objective studies also claim that hair reduction is achieved after 12 treatments with 77% hair reduction on legs, 64% on bikini, and 64% on armpits. The major difference between this IPL hair removal handset compared to others is that it is cordless and lasts up to 30 minutes of usage after a single charge.

The price range is definitely in the pricier range of home-use IPL hair removal devices as it has been a long-trusted brand internationally. The Philips Lumea Prestige has a 100-day money-back guarantee to their customers that aren't satisfied with their results. The device also comes with a 2-year global warranty, but be aware that the lamp lifetime does not extend the Philips 2 years worldwide warranty.
Price: RM 600
Items include: Shero Ice IPL Handset, User Manual, Adaptor, Razor, Protective glasses
Flash count: 999,999 flashes
Shero's newest ICE IPL hair removal handset is definitely in the more affordable range of home-use IPL handsets. It comes with an advanced cooling technology, which is a cooling plate that cools your skin before and after every flash. Results will require 6-8 weeks of usage as it is calibrated to be 580 nm - 1100 nm, which is mild but safe for home use while remaining effective in hair reduction. There is a 90 days money-back guarantee and a 1-year warranty coverage upon registration.
Home-use IPL hair removal device can be a great solution to those who have already started their IPL packages at salons and want a cost-efficient way to maintain their results. Results achieved through any type of laser or IPL hair removal services at salons or through home-use IPL usually only last from 6 months to 2 years depending on what kind of light technology is used, growth hormones, as well as the number of treatments done at the right hair cycle. With the uncertainty of this global pandemic, it is definitely worth the investment of an IPL hair removal handset to stay safe while achieving long-lasting hair removal results.