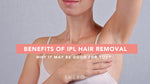 Benefits of IPL Hair Removal & Why It May Be Good For You
What is SHERO ICE IPL Hair Removal Technology?
Beauty technologies have come a long way over the decades and for people who want to remove unwanted hair on their bodies long-term; are remarkably benefited from the innovation of IPL hair removal. As Nd-YAG and Diode lasers have been around since the 60s and IPL (Intense Pulsed Light) since the 90s, here comes the SHERO ICE IPL hair removal technology in the form of a handset!
SHERO ICE IPL hair removal handset is designed in such a way that it is safe for users to use at home without the help of a professional operator. The reason being, it is easy to maneuver; has the ideal light spectrum to target the average depth of our hair follicles, optimal energy levels to cater to the average hair thickness and a range of skin tone; not to mention safety features to protect its users during the hair removal treatment. Now with the latest cooling function, hence the name ICE, you can now even target sensitive areas such as the upper lip and bikini area with comfort.
Benefits of IPL Hair Removal?
You may be thinking, "I've been waxing and plucking all along, what makes me want to start using this?" The answer is simple. You're opting for a long-lasting solution with a fraction of the cost of conventional IPL hair removal at the salon and no pain.
Pain-free & Waxing-Anxiety-free
Remember how we have to muster up our courage to let the waxing therapist do her job strip by strip? The pain is excruciating and there's so much anxiety going on there! With SHERO IPL Hair Removal handset, you get to keep your cool.
No prickly and itchy phase
With our C-IPL hair removal handset, we don't have to wait for the hair to grow into a certain length in order to wax it. That means, no itchiness while we wait for the next hair removal treatment. Here's why… before using the handset, we always shave first to make sure the hair length is always below 3mm for the most efficient hair removal treatment.
Read more about shaving in our shaving tips for women article!
Convenience and privacy
Using the SHERO ICE IPL hair removal handset helps us to save time on making an appointment, getting there and finding a parking space. We can use it in the comfort of our own home, be it during a phone call or while we are binging on Netflix. It's also a good choice for those who prefer not to be butt-naked in front of a stranger!
Safety first
SHERO ICE IPL hair removal handset has a built-in skin sensor. No flash will be emitted when the flashing window is NOT in contact; to protect our eyes from the bright light. Eye protective glasses are also provided for extra protection and comfort. Besides that, the handset is calibrated to be used safely by untrained user without losing out on the effectiveness.
One-time purchase
Take a look at the breakdown of the cost.
With SHERO ICE IPL Handset, we can top up the hair removal treatment anytime, as many shots as we need with no additional charges. Even though a home-use handset is milder than a salon-grade treatment (therefore, requiring more sessions to achieve the result), users are given more control and freedom over the frequency and the power intensity used in the treatment.
Results guaranteed
When we use the ICE IPL hair removal device, the change occurs in stages. We always recommend our users to follow the guidelines and refer to the hair growth cycle in the manual to know what to expect from the treatment.

There is a scientific explanation as to why we encourage our users to use at least 2 or 3 times for the first two weeks and then gradually change to twice a week and then once a week.

This is because the hair follicles can only be damaged effectively when the hair is in an "active" phase but because we can't tell when it's "active" or "non-active", our best bet is to use it frequently as recommended.
Bonus
Believe it or not! As SHERO ICE IPL handset uses a multi-spectrum light which is calibrated to range from 580 nm to 1100 nm; it consists of light wavelength to carry out skin photorejuvenation, pigment therapy, skin tightening and treating vascular issue like rosacea.

Learn more about the things to know before buying at-home IPL Hair Removal Handset!
The SHERO team has poured an immense amount of effort to research the sciences behind long-term hair removal with photoepilators and worked with our manufacturer and engineers to offer a safe solution to combat and stop unwanted hair growth. We aim to help our community to understand the technology better and to help them feel better with us.