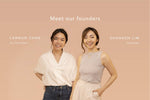 Our Story - Meet the Founders
SHERO was founded by Shannen Lim and Carmun Chan amidst the pandemic in the early 2020. 
"We started this company by introducing the CPL handset, and began the Shero Journey with everyone who wanted an affordable and better hair removal experience with long lasting results. Our first handset was sold out in 3 months! With the validation of need we got from the market, we decided to further improve our product. After much feedback from our Shero users, the SHERO C-IPL was born to be greater than our first handset. Cancel those waxing appointments, and that special salon laser package you saved up for. Give Shero a try, it might just change your life like how it changed ours."
SHANNEN LIM
Founder
After being abroad for 6 years, Shannen came back to her home-country with her Doctor of Dental Surgery degree, ready to start a new chapter, ready to serve. However, she found herself in a bad place after a series of heart breaking events and losing herself after leaving the university life. To top it all off, the pandemic hits. That halted all of the administrative procedures and she was stagnant in her career path, unemployed and lost.
She then stumbled upon the IPL home-use handset. Coming from a background of beauty service providers, she recalled the salon IPL treatments that she used to get. Sidenote: She's born hairy, IPL has given her smooth legs and underarms.
Shannen began investing her time in doing what she does best: researching, learning and expressing her creativity. 
"I started buying different IPL handsets that are on the market, tested them on myself and my friends, studied all of the scientific journals and research I could get my hands on and found the right manufacturer and engineers."
She chose the name SHERO because she believes in forming a community of women who support and groom one another mentally and spiritually (and physically) into being better individuals. A community where people learn to heal and help themselves because people around you will reap and benefit from that goodness. That's a small step in creating a better world, it starts from yourself. Hence, SHE. HER HERO. HER OWN HERO. 
"And the response was good. Many users are kind enough to give us feedback and share their testimonies. Clearly, Malaysia is ready and is accepting of this beauty innovation."

CARMUN CHAN
Co-Founder

A single child, raised by a single father. Carmun had to go through what every girl goes through - Puberty, but alone. Without any women influences at home meant that she had to put up courage and learn what it means to be a woman. 
"Thinking back to my discovery of growing underarm hair, and more shockingly at the time - pubic hair. No one had taught me about the up keeping or self grooming that society expects of you. I am thankful to be born in an era where the internet was invented, as that is where I got to learn all about self-care as a young lady."
Through the internet, Carmun was introduced to all kinds of hair removal methods, and being a curious girl that she was, 
"I tried them all. You name it, shaving, plucking, Veet cream, epilators, and waxing. All of them were not pleasant experiences. The pain from epilating, the smell of chemical cream, the chemical burn and the anxiety of waiting for the beautician to pull off that wax strip. At some point, I gave up; but I still tried to look for a better solution because I do really want to look good in a swimsuit and not feel insecure about hair in unwanted places! Shannen, the founder of this company, aka my cousin, shared this incredible innovative piece of device in mid 2020. After trying it myself, thus ending the painful search, I had to share it with the women around me. So none of you have to go through the search as I did."